Crusader Kings III: Northern Lords
Crusader Kings III: Northern Lords
Paradox Interactive
Ever since its launch in 2020, Crusader Kings III has quickly become a favorite among strategy gamers all over the world. Indeed, with the exception of Stellaris, CK3 has emerged as one of my favorite strategy games, in terms of being an exciting, emergent storytelling simulation. Well, CK3 has finally had some new content added to the base game called the Crusader Kings III: Northern Lords Flavor Pack.
The Northern Lords Flavor Pack is described aptly on its Steam page:
"Best known as fierce raiders from a land of snow and legend, the Norse were a complex society where loyalty was based on more than a noble bloodline. Leaders had to prove themselves as warriors, yes, but also as judges and governors."
The release of the accompanying 1.3 update, which is free to all owners of CK3, adds some nice new tidbits as well—such as being able to impress or rebuke others with the new random poetry generator, clash with rivals in the new dueling system, or endue frigid new weather patterns featuring snowstorms of variable strength. But the real star of the show is the Northern Lords Flavor Pack, which adds a slew of new, well…flavor to the already deep content available in CK3.
There are all sorts of new events (some random, some planned) that pack a deal more color to the Scandinavian realms. While there are new interactions that can develop with some of the more interesting members of your court, some of the fun new activities you can enjoy are tracking mythical creatures throughout your lands, or make some pretty grisly blood sacrifices (of both animals or people).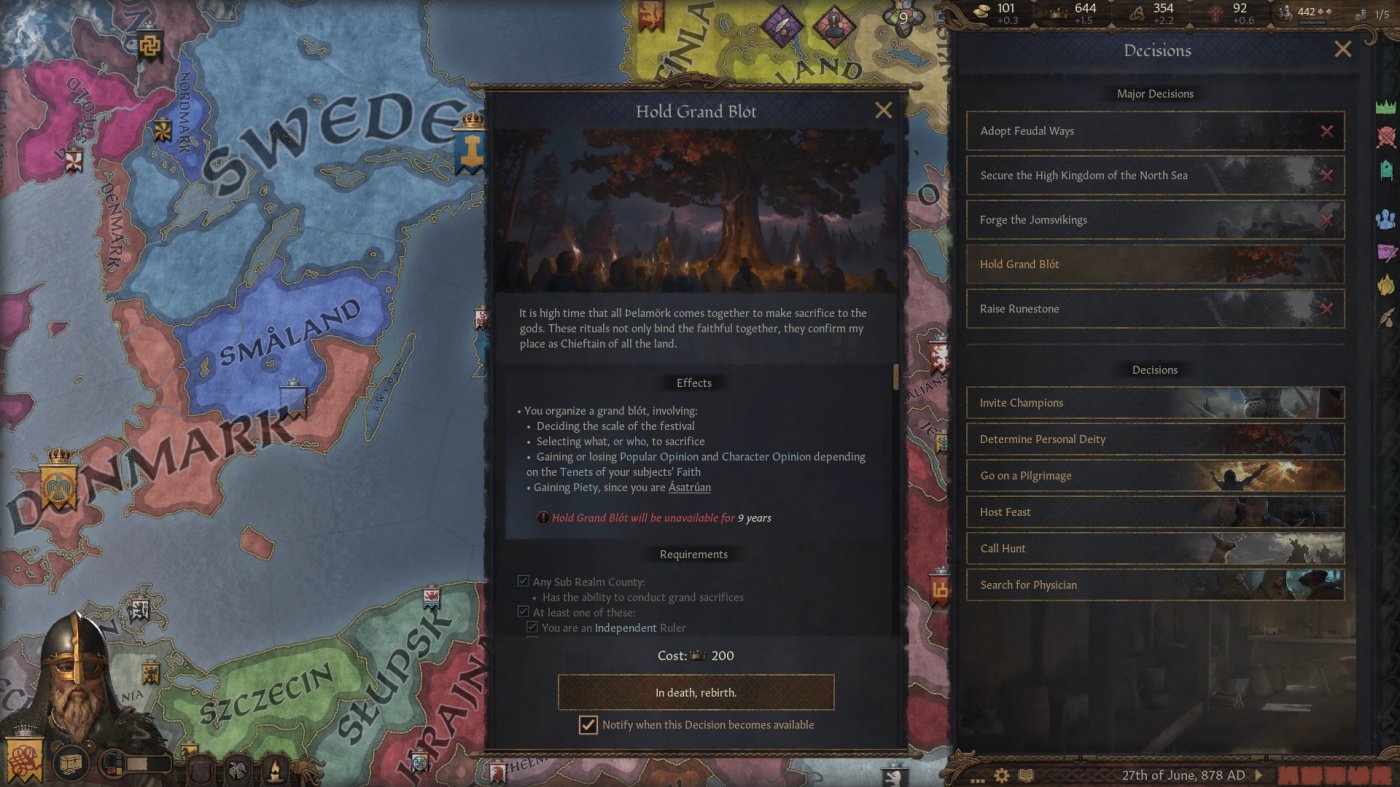 Some of the base game's units are given good old-fashioned Viking makeovers, such as Scandinavian-themed Men-at-Arms regiments. But one of my favorite new additions has to be the Varangian Adventures. This allows you to pick up all of your belongings, sharpen your Dane axes, abandoned your frigid realms, and board your longships for greener pastures in far-off lands. Once you've found a good plot of land you can simply wrest it from the local populace and set up a brand new fiefdom. There have also been some changes to Viking raids that let you employ all your ransacking and bloodletting without the usual elements required by others.
The Northern Lords Flavor Pack is a fantastic new addition to CK3 that I've enjoyed immensely so far. It could signal to its fans the types of flavor packs we'll see for years to come. Honestly, Paradox tends to skip (or skimp) over the African kingdoms so hopefully, we'll see them develop that region a bit more, in addition to the usual South Asian, East Asian, Eastern Europe, and other major theaters of the world's past.
Crusader Kings III has some amazing graphics so you'll need a pretty beefy gaming PC or gaming laptop in order to play it at a decent framerate. Therefore, you may just want to invest in a superior gaming rig:
Visit CyberpowerPC's website to check out all of the other great deals as well!